Philippines Advertising Online | Banner Text Links Inbound Linking
Looking for excellent targeted and growing Philippines website traffic and premium online Philippines advertising? Look no further, you are now in the right place. Philippines Addicts is a perfect high volume Philippines advertising solution for local businesses located anywhere in the Philippines who wish to properly brand their business by targeted foreigners who both live or visit the Philippines frequently. We highly recommend trial of no less than 3 months to get a good look at your return on investment (ROI). Please ask about special deals or pricing for text links and internal thread linking for a more robust Philippines advertising campaign.

The highest volume of traffic for Philippines Nightlife on the Internet today!
Targeted Philippines Website Traffic | Buy Philippines Traffic
Philippines Advertising and branding your website online has never been easier with our high volume of daily targeted search engine traffic along with our steadily growing membership base currently growing at 5% a month as of January 1, 2017. Your banner along with a link of your choice will be rotated globally on every page in our Philippines Forum to all our members thousands of times daily with each visitor viewing an average of 9 pages per visit, that gives your business or website maximum exposure on a daily basis. Your banner ad will be viewed approximately 300,000-350,000 times monthly offering you Philippines Advertising of the highest volume and exposure available today anywhere on the Internet for Philippines Exposure.

Read our guide and useful tips for maximizing your Philippines
advertising exposure now for complete understanding.
Ideal Targeted Business Establishments for your Philippines Based Businesses are as follows:
Bars
Car Motorcyle Rental
Clubs
Dentists
Doctors
Discos
Escort Agencies
Financial Investments
Guesthouses
Hotels
Immigration Visa
Investments
Lawyers
Massage Parlors
Medical Services
Motels
Nightclubs
Professional Services
Real Estate
Retirement
Restaurants
Resorts
Tours
Travel Agencies
Visa Services
If you require information about Philipppines advertising on the Philippines Addicts Forum or the Pattaya and Bangkok Addicts Forums, please send an email to and we can discuss any cross promotional needs you might have for Thailand and the Philippines.
Read our guide and useful tips for maximizing
your Philippines advertising exposure now
Below is a Philippines advertising traffic graph outlining the total exposure over a typical 365 day period from January 1, 2016 to December 31, 2016 and be the judge for yourself (Please click on the graph for a larger image)
The statistics below tell the story! Advertise online and grow your Philippines based business today with unique visitors from all over the World!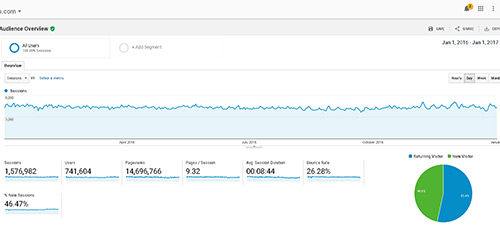 Note: Chart above is the past 365 days as of January 1, 2017 is 1,576,982 total visitors
As of January 1, 2017, Philippines Addicts is currently receiving an average over 125,000 visitors per month and an average of 1,200,000 monthly page views. We are currently growing at a rate of 5% a month with over 58,000 members already in just 5 years. Our current membership level is growing at a rate of 30 new verified members a day on average.

Suitable Philippines Targeted Internet Traffic Audiences Include:

Angeles City
Baguio
Bohol
Boracay
Cebu
Davao
La Union
Manila
Palawan
Puerto Galara
Subic Bay
Advertising Rates on Philippines Addicts are negotiable! We recommend a 3 month trial. Longer term advertising campaigns give you a much better rate. Contact us today to get a quotation and let us know what options you would like to have.
Best Asian Advertising Rates at this exposure around! All Advertising Is Payable Up Front, no exceptions!
Here are our available Philippines advertising options
Static Main Forum Page Text Link



This option gives you an additional 300,000 to 350,000 page views a month and text links generally get about 2-3 times more clicks than regular banner ads not to mention some additional SEO advantages.
Static Small Sub Forum Banner (200 x26 pixels)



Static Rotating Main Forum Banner (468 x 60 pixels)



Negotiable Philippines Advertising rates are always available for cross promotional activities such as long term bulk traffic trading and reciprocal linking building networks. Discounted rates may also be discussed with multiple banners for additional businesses in the same group.
Read our guide and useful tips for maximizing
your Philippines advertising exposure now
Our Philippines advertising is for only one Business Per Banner Advertisement. Additional rates can be negotiated if you wish to use one banner for multiple esbalishments or group branding. The purchasing of multiple banner spaces also constitutes additonal discounted rates, please inquire now and ask about bulk advertising for all of your Philippines based businesses.
Other advanced Philippines advertising features rates are available for serious Philippines based estabishments looking for higher volume options and SEO bonuses such as text links, newsletter marketing and other accellerated traffic alternatives can be discussed, contact us today!
Please and be prepared to use a 468 x 60 banner of your choice. If you don't have a banner, we will gladly make you one for only 500 pesos and will added to the banner rotation only after the banner is approved by you. We recommend having a functional website with Google Analytics or other proper tracking software installed for proper marketing, traffic monitoring and decision making purposes. If you don't have a website we can make a landing page on our website or possibly design a functional web presence at minimal cost.
Feel free to contact us for up to date real time statistics and further drilldown of our targeted Philippines audience based on country demographics. If you have read this far then please be aware the rates stated above change about once every 3 months due to increased popularity and traffic increases. Inquire about your Philippine advertising today or pay substantially more later.
Note: Banner adverts are limited to ONE business per banner although you can have as many banners as you wish. Discounts are available for more than one business within a banner. Philippines Addicts is not responsible for any disputes or bad reviews that may be made to your business. You are responsible to run proper services and action if necessary to threads that may contain such information. Advertisers are highly encouraged to post promotional threads (within reason) in appropriate areas but must follow board rules.