We are often asked how to add a photo to a board member's profile and here is a step by step guide to help you accomplish this feat. We highly encourage all our active members to do add a picture to their profile enabling other member's to better identify you and your posts giving you a better persona.
Here's a brief step by step guide:
1. Click on your main profile "Screename" after which a pop up window will appear, then click "My Profile". See Below: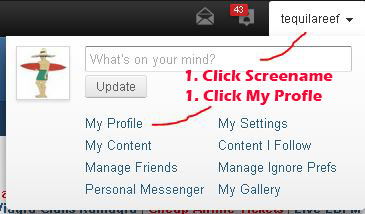 2. Upon your profile window opening, click the "Edit Profile" button in the top right corner of the screen. See Below:
tequilareef Viewing Profile Philippines Forum Community1.png 5.5KB 25 downloads
3. At the top of your User Control Panel, you shall see a button which reads "Change My Photo", click that and then browse to the location of the image on your hard drive and upload it! You are now done! See Below:

If you guys can think of any other issues that warrent "How To" guides, please PM a mod or admin. Cheers!